Sampada Joglekar-Kulkarni After a

the pleasant journey of writing, dancing, narrating, composing, directing plays for the last 28-30 years, now 'agriculture' has come to mind. Rahul and I have made this decision together for the next stage of our lives. After 40 years of age, we both decided to do something new. He is Sir J.J. A graduate of the School of Art, holding a senior position in a highly recognized multinational company in the field of advertising, I have established myself in my field. Something different came to mind in this list. But we settled down to enjoy farming in Fungus village in Sangameshwar in Ratnagiri district.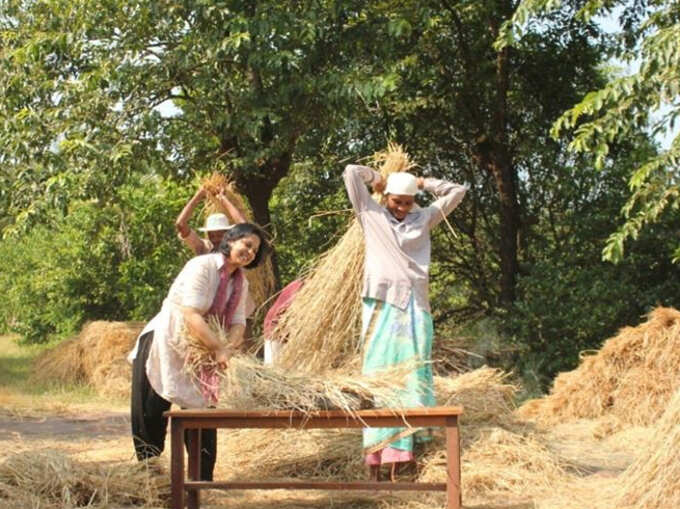 After living life in the city, we turned to the village. It started with digging a well point in a completely barren land. Without the sole purpose of earning money, we went ahead with the idea of ​​staying calm, contented and in nature without harming nature. He built a house on his own accumulating capital. The OT, the pavilion, the pavilion and what was formerly known as the bed, the toilet were converted into rooms where tourists could stay. First started 'Agriculture'. Cultivation of rice, mechanic, pavta, kulith, sesame, turmeric. Also planted mango, cashew. Agriculture for the last 12 years and 'Home Stay' for the last 6 years.
Rahul, who has no knowledge of agriculture, made himself aware of his knowledge of agricultural books, magazines, internet information, the guidance of agronomists, and the great Japanese philosopher Fukuoka. We were having the right discussion. For this, the 'Farmer' started by getting the experience and cooperation of the fungus by introducing the nearby congregations. Rahul worked hard for the first 5/6 years. The office in Mumbai used to reach Konkan on Mondays and Fridays till the village was jammed. Later, however, he quit his job and returned to farming. Now we are both completely Konkan people. He travels to and from Mumbai for select events and shootings.
In the rainy season, the soil becomes very muddy, so sowing and planting, removing the turmeric mangoes from the field, filling the mango boxes and sending them as per the order, managing them by dividing the vegetables properly and storing them properly, some storage items are started. In the sun, you can add hot chillies, make chickpeas, roll papad, pickle different types of pickles. I don't know how my day goes while doing all this. Of course, this is not all in one day. It is divided according to the seasons. The missing calf, buffalo, cow, were also found. He did not return till evening. Learned to remove dung, treat with dung, fertilize dung.